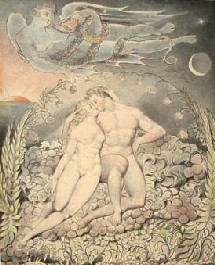 The
New-York Times
a donné quelques précisions sur la future adaptation du
Paradis perdu
de John Milton au cinéma. Vous trouverez dans les commentaires l'intégralité de l'article (en anglais). Le film devrait être centré sur la
guerre dans le ciel
plutôt que sur Adam et Eve dont la nudité au paradis serait selon les producteurs susceptible de heurter la sensibilité des spectateurs. L'article titre d'ailleurs :
God vs satan. What about the nudity ?
. D'aucuns affirment que ces scènes de nue ne pourraient choquer que les chrétiens..Ces gens devraient méditer la théologie du corps qu'a développée le pape Jean-Paul II tout au long de son pontificat…Edifiant… Les chrétiens ont une conception sacrée du corps. La corporéité est appelée à la louange, à la spiritualisation, ainsi que la sexualité, constitutive de la personne humaine et signe de sa vocation au don d'elle-même (il est à noter que le pape s'est appuyé sur le récit de la Genèse pour fonder sa théologie du corps humain, qui reste encore méconnue)
« Mr. Newman, peut-on lire, by his own account, told the writers he wanted "less Adam and Eve and more about what's happening with the archangels," the battle in Heaven between God's and Satan's armies. "In Eden there's the nudity problem," he pointed out, "which would be a big problem for a big studio movie." ».
Quelle déception !…Ce qui a sans doute effrayé les producteurs c'est la scène où Adam et Eve s'adonnent aux « rites mystérieux de l'amour conjugal, malgré tout ce que disent austèrement les hypocrites de la pureté du Paradis, de l'innocence… ». Je crois qu'une telle scène aurait été sans doute la plus chargée d'intensité érotique jamais filmée au cinéma… Les spectateurs, ignorants du christianisme, devront donc se contenter d'un film épique, puritain, dans le sens inverse que Milton donnait à ce mot, tournant autour de Satan, cet ennemi du corps, de l'incarnation, du mariage (voir
ce texte
, l'inspirateur de toutes les perversions, de tout ce qui est tordu et compliqué, bref le dieu de nos contemporains...
Voici la scène, traduite par Chateaubriand (Livre IV) :
…Ils parlent ainsi, et main en main ils entrent solitaires sous leur fortuné berceau : c'était un lieu choisi par le Planteur souverain, quand il forma toutes choses pour l'usage délicieux de l'homme. La voûte de l'épais couvert était un ombrage entrelacé de laurier et de myrte, et ce qui croissait plus haut était d'un feuillage aromatique et ferme. De l'un et l'autre côté l'acanthe et des buissons odorants et touffus élevaient un mur de verdure ; de belles fleurs, l'iris de toutes les nuances, les roses et le jasmin, dressaient leurs tiges épanouies et formaient une mosaïque. Sous les pieds la violette, le safran, l'hyacinthe, en riche marqueterie brodaient la terre, plus colorée qu'une pierre du plus coûteux dessin.
Aucune autre créature, quadrupède, oiseau, insecte ou reptile, n'osait entrer en ce lieu ; tel était leur respect pour l'homme. Jamais, même dans les fictions de la fable, sous un berceau ombragé, plus sacré et plus écarté, jamais Pan ou Sylvain ne dormirent, Nymphe ni Faune n'habitèrent. Là, dans un réduit fermé avec des fleurs, des guirlandes et des herbes d'une suave odeur, Eve épousée embellit pour la première fois sa couche nuptiale, et les choeurs célestes chantèrent l'épithalame. Ce jour-là l'ange de l'hymen amena Eve à notre Père dans sa beauté nue, plus ornée, plus charmante que Pandore, que les dieux dotèrent de tous leurs dons (oh ! trop semblable à elle par le triste événement), alors que, conduite par Hermès au fils imprudent de Japhet, elle enlaça l'espèce humaine dans ses beaux regards, afin de venger Jupiter de celui qui avait dérobé le feu authentique.
Ainsi arrivés à leur berceau ombragé, Eve et Adam tous deux s'arrêtèrent, tous deux se retournèrent, et sous le ciel ouvert ils adorèrent le Dieu qui fit à la fois le ciel, l'air, la terre, le ciel qu'ils voyaient, le globe resplendissant de la lune, et le pôle étoilé.
" Tu as aussi fait la nuit, Créateur tout-puissant ! et tu as fait le jour que nous avons employé et fini dans notre travail prescrit, heureux de notre assistance mutuelle, et de notre mutuel amour, couronne de toute cette félicité ordonnée par toi ! Et tu as fait ce lieu délicieux, trop vaste pour nous, où l'abondance manque de partageants et tombe sur le sol non moissonnée. Mais tu nous as promis une race issue de nous qui remplira la terre, qui glorifiera avec nous ta bonté infinie, et quand nous nous éveillons, et quand nous cherchons, comme à cette heure, le sommeil, ton présent. "
Ils dirent ainsi unanimes, n'observant d'autres rites qu'une adoration pure, que Dieu aime le mieux. Ils entrèrent en se tenant par la main dans l'endroit le plus secret de leur berceau ; et n'ayant point la peine de se débarrasser de ces incommodes déguisements que nous portons, ils se couchèrent l'un près de l'autre. Adam ne se détourna pas, je pense, de sa belle épouse, ni Eve ne refusa pas les rites mystérieux de l'amour conjugal, malgré tout ce que disent austèrement les hypocrites de la pureté du Paradis, de l'innocence, diffamant comme impur ce que Dieu déclare pur, ce qu'il commande à quelques-uns, ce qu'il permet à tous. Notre Créateur ordonna de multiplier. Qui ordonne de s'abstenir, si ce n'est notre destructeur, l'ennemi de Dieu et de l'homme ?
Salut, amour conjugal, mystérieuse loi, véritable source de l'humaine postérité, seule propriété dans le Paradis, où tous les autres biens étaient en commun ! Par toi l'ardeur adultère fut chassée des hommes et reléguée parmi le troupeau des bêtes ; par toi, fondées sur la raison loyale, juste et pure, les relations chéries et toutes les charités du père, du fils et du frère, furent connues pour la première fois. Loin de moi d'écrire que tu sois un péché ou une honte, ou de penser que tu ne conviennes pas au lieu le plus sacré, toi, source perpétuelle des douceurs domestiques, toi, dont le lit a été déclaré chaste et insouillé pour le présent et pour le passé, et dans lequel sont entrés les saints et les patriarches. Ici l'amour emploie ses flèches dorées, ici il allume son flambeau durable et agite ses ailes de pourpre ; ici il règne et se délecte. Il n'est point dans le sourire acheté des prostituées sans passion, sans joies et que rien ne rend chères ; il n'est point dans des jouissances passagères, ni parmi les favorites de cour, ni dans une danse mêlée, ni sous le masque lascif, ni dans le bal de minuit, ni dans la sérénade que chante un amant affamé à sa fière beauté, qu'il ferait mieux de quitter avec dédain. Bercés par les rossignols, Adam et Eve dormaient en se tenant embrassés ; sur leurs membres nus le dôme fleuri faisait pleuvoir des roses, dont le matin réparait la perte. Dors, couple béni ! Oh ! toujours plus heureux si tu ne cherches pas un plus heureux état, et si tu sais ne pas savoir davantage !